1. YOU KNOW THE ORIGIN AND PROVENANCE OF WHAT YOU ARE EATING
In the UK we have regulation surrounding the use of pesticides on our agricultural crops that have potential to cause harm to humans or the environment. But are we as environmentally friendly as we ought to be and what about other countries that export to the UK?
As of 2019, as many as 72 pesticides were approved for outdoor agricultural application in the USA that were banned in the EU. Peru still uses harmful pesticides today to boost production and meet consumer demand. These pesticides create residues which end up in our food. Developing countries cite a lack of available alternative chemicals or 'economic reasons', in spite of a broad understanding of the dangers to human health and ecology.
A study in 2013 tested well-known tea brands for 365 different illegal pesticides. It revealed that tea companies in both India and China are exposing people to illegal pesticides by including residues in their tea. Twenty six teas tested that claimed to be 'all natural' contained pesticides that were not approved for use and some contained carcinogens.
Alarmingly, just last year the UK lifted the ban on a pesticide known to harm both wild bees and honey bees because of an urgent threat to the sugar beet crop from a virus spread by aphids. Moreover, Greenpeace reported in 2020 that the UK was Europe's biggest exporter of toxic banned pesticides to poorer countries such as South Africa, Ukraine and Brazil. Ukraine by the way, is the world's top producer of sunflower oil and seed and a major exporter of wheat and barley.
2. GROWING ORGANIC IS SAVING POLLINATORS
Most people growing their own veg at home do not find the need to spray their crop with chemicals to control pests or diseases, as they are growing in small numbers. By avoiding pesticides, herbicides and fungicides, they are by default growing organically. As most vegetables and fruit are insect-pollinated, home growers are helping the local wildlife while also reducing demand for inorganic vegetables whose intense farming methods may be harming pollinators (and humans).
3. YOU ARE SAVING AIR MILES AND THE PLANET
Unless you conscientiously buy British all the time then you are probably buying green beans from Kenya (6,000 miles), avocados from Peru (6,000 miles) and tomatoes from Spain (1,500 miles). According to Friends of the Earth, flying green beans from Kenya produces 3.8 kilograms of carbon dioxide per kilogram of food. To put this in perspective, one fully-grown tree absorbs just 25kg of CO2 in a whole year.
4. THE FINANCIAL GAIN CAN BE SUBSTANTIAL
Let's compare the cost of tomatoes to buy from a supermarket vs. tomatoes grown at home.
A popular salad tomato plant such as 'Moneymaker' can yield 30 tomatoes if pruned correctly - this one plant from a single seed can therefore produce tomatoes worth around £8.00. But grown organically, this plant becomes more valuable: 30 organic tomatoes would cost around £14. Plant ten tomato seeds at regular intervals and you have £140 of tomatoes available in succession to be used fresh, or made into chutney or tomato sauce! The cost of growing is minimal: you only need a bag of compost (£4/5) and tomato feed (£2.62 for 1L)*
5. YOU CAN GROW FRUIT AND VEG NOT AVAILABLE TO BUY
We are advised by nutritionists that when it comes to gut health, diversity is key. In fact we should be eating 30 different types of plant weekly to increase the good bacteria in our gut. Why not try growing unusual edibles such as Vietnamese coriander, romanesco or Brusselberry sprouts? You can even try growing your own tea leaves (from Camellia sinensis).  Our hunter-gatherer ancestors ate up to 500 different local roots, herbs and plants in a year. Compare that to our diet today in which on average we eat only 15-17 different types.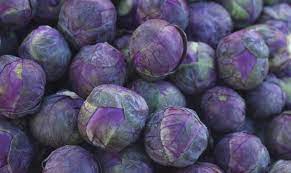 Brusselberry sprouts, sweeter and milder than ordinary sprouts, with purple leaves
6. YOU DON'T HAVE TO GO OUT TO BUY YOUR NEXT MEAL
Imagine being able to pick your veg just outside your back door and not having to get in the car…. Back garden to plate - under 30 metres.
7. GARDENING IS PROVEN TO BE BENEFICIAL TO PHYSICAL AND MENTAL HEALTH
The RHS tells us that 30 minutes of gardening is comparable to playing badminton or practising yoga. Apart from the exercise element, a King's Fund report found gardening also significantly reduced depression and anxiety, improved social functioning and helped prevent cognitive decline. Gardening is now prescribed by GPs for both rehabilitation and as a preventative mechanism.
8. HOME GROWN MAKE GOOD PRESENTS
Giving a gift that you have created / made / grown yourself just has so much more meaning. And you will feel proud of yourself for having achieved it. Especially if it's the biggest carrot you've ever seen, or a vegetable that isn't available to buy.
9. ALLOW YOUR PLANTS TO FLOWER AND YOU WILL HAVE FREE SEED FOR NEXT YEAR
Seeds come from flowers at the end of the plant's lifecycle. So once you have harvested all you want, make sure you leave some flowers on the plant to dry out and produce seed. Collect before they drop to the ground.
10. SUPERIOR TASTE AND FRESHNESS
It makes sense that a cauliflower or raspberry that has been left to mature/ripen on the plant and then eaten within minutes of harvesting tastes better than one that was picked while unripe - then possibly treated to slow down ripening and prevent degradation before consumption.
Vegetables grown around the world for export are processed quickly to retain freshness and many undergo some kind of preservation treatment. Some shredded cabbage products for example, are washed in a chlorine rinse to inactivate microorganisms. Vegetables are vacuum packed in a (harmless) gas mixture. Unfortunately refrigeration straight after harvest cannot eliminate all pathogen and spoilage microorganisms; for example Listeria monocytogenes and E. coli are able to multiply slowly in refrigerated foods. That is not to say that E.coli is not present on home grown fruit and veg, but by taking the right steps the home grower can reduce the risk of unwanted pathogens ending up on the plate. By picking fresh from the garden when required for consumption, and washing well in clean water, you will enjoy a superior quality and taste. Try a sweet, fresh broad bean picked green and young from the plant and you will be amazed at the difference to its frozen supermarket relative.
by Paula Napper
Chalcot Garden Design
*Prices correct as of April 2023.
References:
https://www.theguardian.com/environment/2022/mar/01/bee-harming-pesticide-thiamethoxam-uk-emergency-exemption
https://www.eea.europa.eu/articles/forests-health-and-climate-change/key-facts/trees-help-tackle-climate-change#:~:text=Over%20one%20year%20a%20mature,of%20pollutants%20from%20the%20air.
https://www.heraldscotland.com/default_content/12486492.green-beans-trip-kenya-plate/
https://assets.publishing.service.gov.uk/media/57a08ba940f0b652dd000df8/60506-fp12.pdf
https://www.downtoearth.org.in/news/pesticides-banned-20474
https://www.intechopen.com/chapters/81416
https://ehjournal.biomedcentral.com/articles/10.1186/s12940-019-0488-0#:~:text=Paraquat%20and%20phorate%20are%20the,over%20their%20safety%20%5B73%5D.
https://www.rhs.org.uk/advice/health-and-wellbeing/articles/why-gardening-makes-us-feel-better