1. YOU KNOW THE ORIGIN AND PROVENANCE OF WHAT YOU ARE EATING
In the UK we have regulation surrounding the use of pesticides on our agricultural crops that have potential to cause harm to humans or the environment. But are we as environmentally friendly as we ought to be and what about other countries that export to the UK?
As of 2019, as many as 72 pesticides were approved for outdoor agricultural application in the USA that were banned in the EU. Peru still uses harmful pesticides today to boost production and meet consumer demand. These pesticides create residues which end up in our food. Developing countries cite a lack of available alternative chemicals or 'economic reasons', in spite of a broad understanding of the dangers to human health and ecology.
A study in 2013 tested well-known tea brands for 365 different illegal pesticides. It revealed that tea companies in both India and China are exposing people to illegal pesticides by including residues in their tea. Twenty six teas tested that claimed to be 'all natural' contained pesticides that were not approved for use and some contained carcinogens.
Alarmingly, just last year the UK lifted the ban on a pesticide known to harm both wild bees and honey bees because of an urgent threat to the sugar beet crop from a virus spread by aphids. Moreover, Greenpeace reported in 2020 that the UK was Europe's biggest exporter of toxic banned pesticides to poorer countries such as South Africa, Ukraine and Brazil. Ukraine by the way, is the world's top producer of sunflower oil and seed and a major exporter of wheat and barley.
2. GROWING ORGANIC IS SAVING POLLINATORS
Most people growing their own veg at home do not find the need to spray their crop with chemicals to control pests or diseases, as they are growing in small numbers. By avoiding pesticides, herbicides and fungicides, they are by default growing organically. As most vegetables and fruit are insect-pollinated, home growers are helping the local wildlife while also reducing demand for inorganic vegetables whose intense farming methods may be harming pollinators (and humans).
3. YOU ARE SAVING AIR MILES AND THE PLANET
Unless you conscientiously buy British all the time then you are probably buying green beans from Kenya (6,000 miles), avocados from Peru (6,000 miles) and tomatoes from Spain (1,500 miles). According to Friends of the Earth, flying green beans from Kenya produces 3.8 kilograms of carbon dioxide per kilogram of food. To put this in perspective, one fully-grown tree absorbs just 25kg of CO2 in a whole year.
4. THE FINANCIAL GAIN CAN BE SUBSTANTIAL
Let's compare the cost of tomatoes to buy from a supermarket vs. tomatoes grown at home.
A popular salad tomato plant such as 'Moneymaker' can yield 30 tomatoes if pruned correctly - this one plant from a single seed can therefore produce tomatoes worth around £8.00. But grown organically, this plant becomes more valuable: 30 organic tomatoes would cost around £14. Plant ten tomato seeds at regular intervals and you have £140 of tomatoes available in succession to be used fresh, or made into chutney or tomato sauce! The cost of growing is minimal: you only need a bag of compost (£4/5) and tomato feed (£2.62 for 1L)*
5. YOU CAN GROW FRUIT AND VEG NOT AVAILABLE TO BUY
We are advised by nutritionists that when it comes to gut health, diversity is key. In fact we should be eating 30 different types of plant weekly to increase the good bacteria in our gut. Why not try growing unusual edibles such as Vietnamese coriander, romanesco or Brusselberry sprouts? You can even try growing your own tea leaves (from Camellia sinensis).  Our hunter-gatherer ancestors ate up to 500 different local roots, herbs and plants in a year. Compare that to our diet today in which on average we eat only 15-17 different types.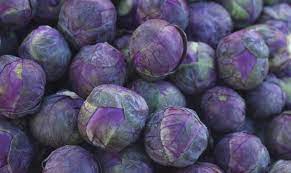 Brusselberry sprouts, sweeter and milder than ordinary sprouts, with purple leaves
6. YOU DON'T HAVE TO GO OUT TO BUY YOUR NEXT MEAL
Imagine being able to pick your veg just outside your back door and not having to get in the car…. Back garden to plate - under 30 metres.
7. GARDENING IS PROVEN TO BE BENEFICIAL TO PHYSICAL AND MENTAL HEALTH
The RHS tells us that 30 minutes of gardening is comparable to playing badminton or practising yoga. Apart from the exercise element, a King's Fund report found gardening also significantly reduced depression and anxiety, improved social functioning and helped prevent cognitive decline. Gardening is now prescribed by GPs for both rehabilitation and as a preventative mechanism.
8. HOME GROWN MAKE GOOD PRESENTS
Giving a gift that you have created / made / grown yourself just has so much more meaning. And you will feel proud of yourself for having achieved it. Especially if it's the biggest carrot you've ever seen, or a vegetable that isn't available to buy.
9. ALLOW YOUR PLANTS TO FLOWER AND YOU WILL HAVE FREE SEED FOR NEXT YEAR
Seeds come from flowers at the end of the plant's lifecycle. So once you have harvested all you want, make sure you leave some flowers on the plant to dry out and produce seed. Collect before they drop to the ground.
10. SUPERIOR TASTE AND FRESHNESS
It makes sense that a cauliflower or raspberry that has been left to mature/ripen on the plant and then eaten within minutes of harvesting tastes better than one that was picked while unripe - then possibly treated to slow down ripening and prevent degradation before consumption.
Vegetables grown around the world for export are processed quickly to retain freshness and many undergo some kind of preservation treatment. Some shredded cabbage products for example, are washed in a chlorine rinse to inactivate microorganisms. Vegetables are vacuum packed in a (harmless) gas mixture. Unfortunately refrigeration straight after harvest cannot eliminate all pathogen and spoilage microorganisms; for example Listeria monocytogenes and E. coli are able to multiply slowly in refrigerated foods. That is not to say that E.coli is not present on home grown fruit and veg, but by taking the right steps the home grower can reduce the risk of unwanted pathogens ending up on the plate. By picking fresh from the garden when required for consumption, and washing well in clean water, you will enjoy a superior quality and taste. Try a sweet, fresh broad bean picked green and young from the plant and you will be amazed at the difference to its frozen supermarket relative.
by Paula Napper
Chalcot Garden Design
*Prices correct as of April 2023.
References:
https://www.theguardian.com/environment/2022/mar/01/bee-harming-pesticide-thiamethoxam-uk-emergency-exemption
https://www.eea.europa.eu/articles/forests-health-and-climate-change/key-facts/trees-help-tackle-climate-change#:~:text=Over%20one%20year%20a%20mature,of%20pollutants%20from%20the%20air.
https://www.heraldscotland.com/default_content/12486492.green-beans-trip-kenya-plate/
https://assets.publishing.service.gov.uk/media/57a08ba940f0b652dd000df8/60506-fp12.pdf
https://www.downtoearth.org.in/news/pesticides-banned-20474
https://www.intechopen.com/chapters/81416
https://ehjournal.biomedcentral.com/articles/10.1186/s12940-019-0488-0#:~:text=Paraquat%20and%20phorate%20are%20the,over%20their%20safety%20%5B73%5D.
https://www.rhs.org.uk/advice/health-and-wellbeing/articles/why-gardening-makes-us-feel-better
The use of different levels is always an effective way for small show gardens to make the space feel bigger and to create views that are not possible on the level: Joe has put at the heart of the garden a sunken seating area that is backed by a 'living' wall and sheltered by the main focal point, an organic mushroom-shaped 'pavilion'. Down here there is a sense of enclosure, calm and quiet amongst the trees. The soil dug out from the centre has been used to fill a higher area of woodland, and create a riverbank that dances with meadow style planting.
I was fortunate to be on the planting team and help put together Joe's vision for naturalistic plantings that emulate different plant communities. Overshadowing the back of the garden, an impressive Pseudotsuga menziesii (Douglas Fir) above a tapestry of shady green foliage represents the woodland. The floor is punctuated with spiky ferns Dryopteris and Blechnum, and at the edges the dramatic flower spikes of Digitalis purpurea and Acanthus mollis almost reach the tree's branch tips. Smaller shrubby species are planted around the tree's trunk, and even in this small space the perspective gives the appearance of a clearing within the woodland. A soft coral- coloured Geum livens the edge of the woodland where it meets wild strawberry and abundant plantings of a moss-like perennial, Selaginella kraussiana.
The wildflower meadow is naturalistically planted with grasses, species gladioli, Echium, Ornithogalum, Centaurea cyanus 'Blue Boy' and Silene dioica all in cooler colours, punctuated with a gorgeous deep purple-black Papaver somniferum.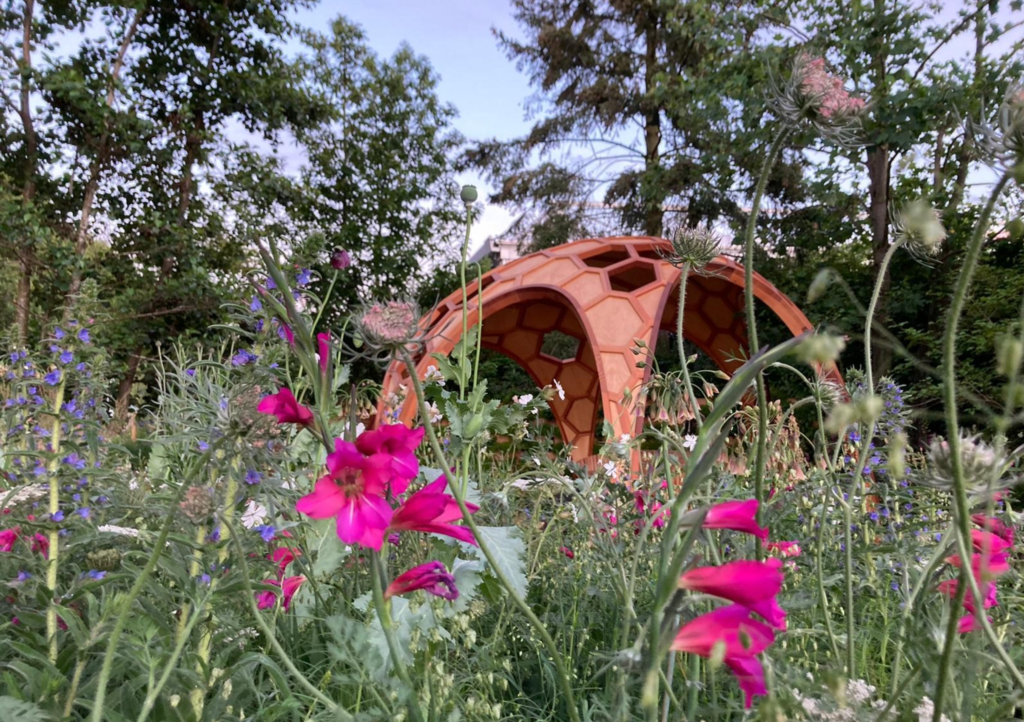 But it is the transitions between these areas where Joe's skill is evident - it takes a clever plantsman to move from woodland to meadow without the shift being contrived. Joe uses 'woodland edge' plants Digitalis, Aquilegia, Gillenia and Carex, adding Anthriscus, Daucus carota, Geranium, Nectaroscordum, as he moves into the light, finishing with Echium vulgare, Briza media, Carex and Silene dioica reflecting the meadow adjacent. The inclusion of plenty of grasses and avoidance of planting single species in large groups - everything appears to be randomly sown - makes the whole seem completely natural.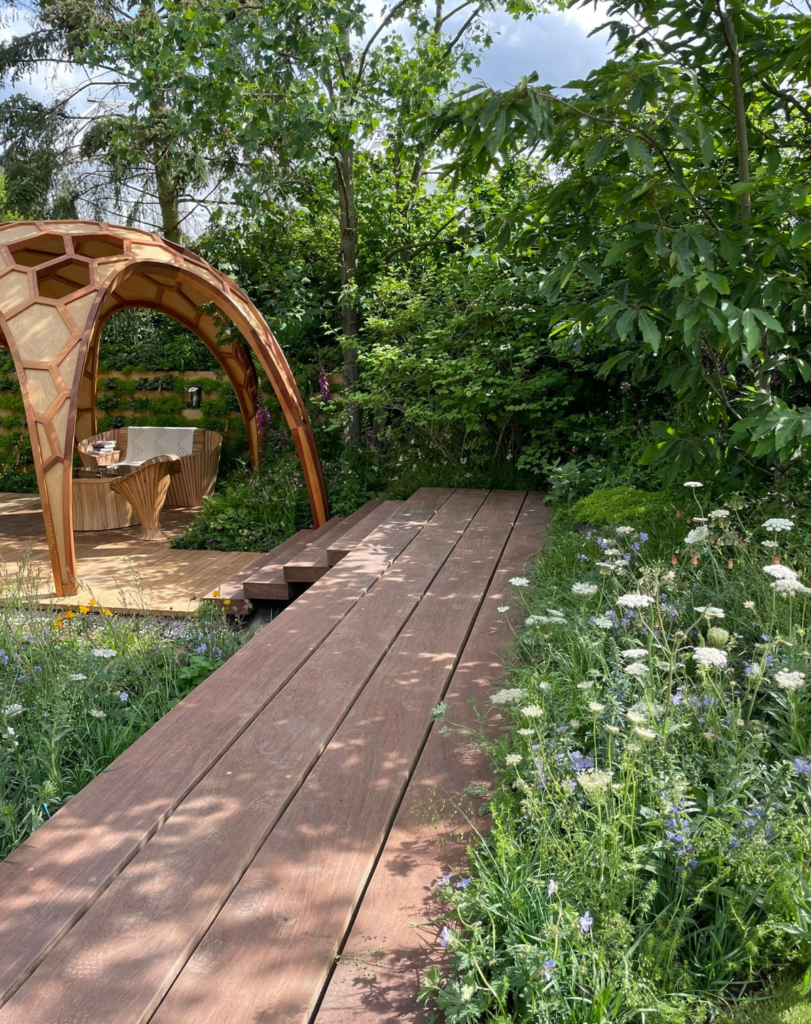 The timber pavilion representing complex mycelium networks is anchored to the sunken chestnut deck. Built off site, the mushroom-like structure is engineered in chestnut, cedar and plywood and uses a series of hexagons fitted together with the occasional shape punched through to reveal snapshots of sky. While plywood sheet is not rainproof and is not recommended for use outside, it is used here as a roofing product to contrast with the warmth of the oiled cedar hexagons.
The Meta garden will be removed after the show and relocated at the Conkers Discovery Centre in the National Forest. John Everitt, Chief Executive of the National Forest Company, commented: "This is a forest of people as much as the trees. It is the people that have come together over the past 30 years to create the Forest, like nature's mycelium network that underpins our biodiversity. We will be excited to see Joe Perkins's Meta garden relocated here. It will provide a lasting inspiration for our communities and visitors, and a showcase for how we can all live more sustainably."
The Garden was awarded an RHS Gold Medal.
Hayfever, also known as seasonal allergic rhinitis, is an allergic reaction to pollen and can be triggered at different times of year depending on the life cycle of certain plants that release pollen in to the air.
The UK has the largest number of hayfever sufferers in Europe alongside Sweden and the number has been increasing over the past few years, with adults in mid life having the most bouts. While there is no clear answer to this increase, many scientists argue that spending time indoors as children could be to blame. Immune systems are no longer developing properly as a result of less exposure to endotoxins from a young age.
It is known that plants that cause hayfever are generally wind pollinated, releasing billions of lightweight pollen spores in to the air. Many plants have evolved to send their pollen (a powder like substance produce by the male parts of a plant) to travel far and wide. The most common culprits for causing suffering are
Tree Pollen - spring (Alder, Hazel, Yew, Elm, Willow, Poplar, Ash and Birch)
Grass pollen - late spring and summer (many species, causing the most allergic reactions)
Ragweed pollen - autumn (a group of annual weeds belonging to the daisy family)
Because the release of pollen is closely related to seasons which are influenced by weather patterns, the Met Office produce a pollen forecast each day. According to them, the most severe pollen season in a decade was 2018, when a cold and wet start to the year delayed the onset of spring. This led to a sudden explosion of growth and blossom all at once, where there would normally be a gradual blooming. The sunniest May on record and consistently warm temperatures then helped release huge amounts of grass pollen into the air. For more information, visit metoffice.gov.uk.
Where you live makes a difference too. In the north of the UK hayfever season is shorter, where there is generally less pollen. Urban areas have lower counts than the countryside and the coast has 'cleaner' air than inland.
How to reduce hayfever symptoms
Plant species in your garden that are insect pollinated, rather than wind pollinated\
Plant female only species that do not produce pollen
Mow the lawn regularly to prevent the grass producing pollen
Mow in the evening when pollen counts are generally lower
Avoid drying laundry outdoors, particularly clothes and bedding, when pollen counts are high
Wash pets before they come indoors
Check the pollen forecast each day and limit the time spent outdoors when pollen counts are high
Keep doors and windows closed during peak months
Change clothes immediately after being outside
Combined with warm, natural woods such as sustainable teak or acacia, weaves create a comfortable and inviting place to sit and relax, turning the outdoors in to a cool lounge area. The Ritz Teak Teak Dining Set from encompassco.com combines style and comfort with its hand woven seat and back made from 'Polyolefin belt' - a fibre resistant to fungus, bacteria, sunlight, humidity, chlorine and food stains.' What's more it is environmentally friendly as Polyolefin polymers contain no plasticizers, acids or heavy metal compounds.

The Grignoon armchair sold by Kave Home could easily trace its origins back to Hans J Wegner's CH25 Lounge Chair created for Carl Hansen & Son in 1950. The modernist chair caused a stir due to its choice of woven paper cord, which Wegner chose for its non stretching property and it is still being produced today in its original design. Kave Home's offering combines solid acacia with synthetic rattan, a man made fibre often coated with UV additives to prevent fading and wear.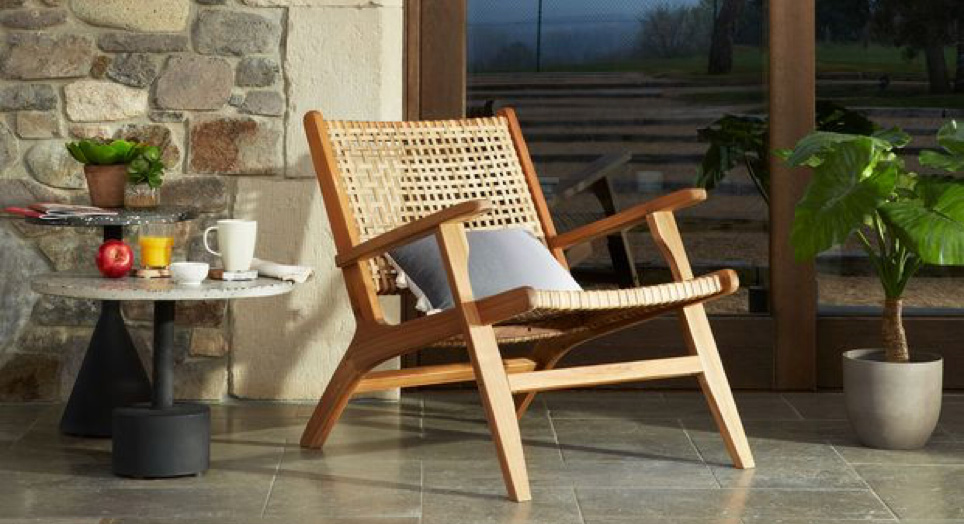 Spanish furniture company Point's Weave Collection uses braided polyster rope around a powder coated aluminium frame. Launched in 2017, and inspired by the knotted nests of berry-weaver birds, Vincent Martinez's collection includes twenty seven elements and has won an array of international awards.