Combined with warm, natural woods such as sustainable teak or acacia, weaves create a comfortable and inviting place to sit and relax, turning the outdoors in to a cool lounge area. The Ritz Teak Teak Dining Set from encompassco.com combines style and comfort with its hand woven seat and back made from 'Polyolefin belt' - a fibre resistant to fungus, bacteria, sunlight, humidity, chlorine and food stains.' What's more it is environmentally friendly as Polyolefin polymers contain no plasticizers, acids or heavy metal compounds.

The Grignoon armchair sold by Kave Home could easily trace its origins back to Hans J Wegner's CH25 Lounge Chair created for Carl Hansen & Son in 1950. The modernist chair caused a stir due to its choice of woven paper cord, which Wegner chose for its non stretching property and it is still being produced today in its original design. Kave Home's offering combines solid acacia with synthetic rattan, a man made fibre often coated with UV additives to prevent fading and wear.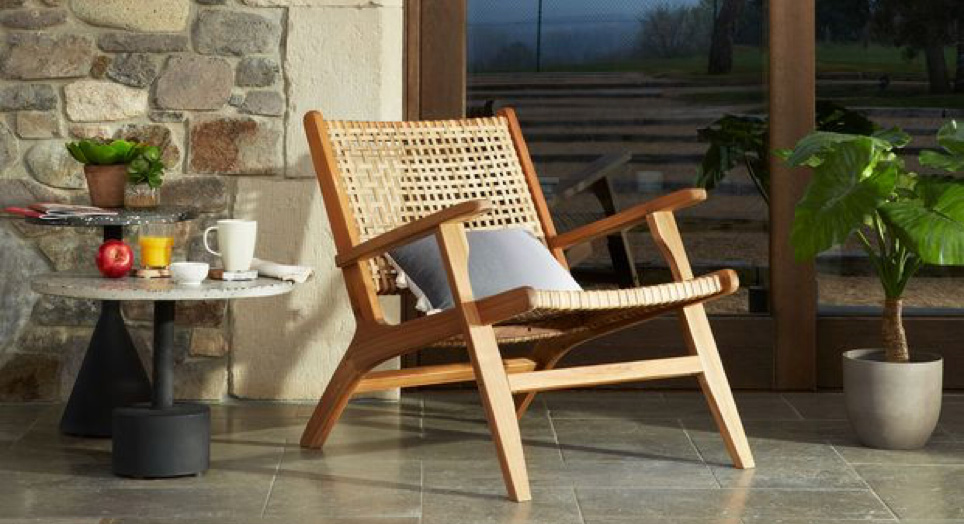 Spanish furniture company Point's Weave Collection uses braided polyster rope around a powder coated aluminium frame. Launched in 2017, and inspired by the knotted nests of berry-weaver birds, Vincent Martinez's collection includes twenty seven elements and has won an array of international awards.